CRAFTSMANSHIP
Producing only products that we can be truly proud of
As if to breathe life into a product concept in a drawing and create an actual three-dimensional product, craftsmen elaborately shape and make angular adjustments to complex shape components in increments of millimeters. It is the role of experienced craftsmen to give shape to the ideas of designers while meeting their requests. From processing a metal pipe to final assembly and upholstering, a number of experts specialized in different areas are involved in the wide-ranging process of furniture manufacturing. It is the QUON approach to start by creating a prototype. Since the company also owns an iron works, it can readily give shape to the new projects and concepts of the development team. Being able to respond to experimentation in a flexible manner is also an advantage of having our own iron works. The reason why we can manufacture products in such a flexible manner is the availability of an environment in which all functions, including our own factories, are aggregated. This facilitates operation of an integrated production system. As we all know, in furniture design, details have a significant impact on overall quality. No half-measures are permitted in any process. QUON's manufacturing is based on craftsmanship that pursues "the ideal chair."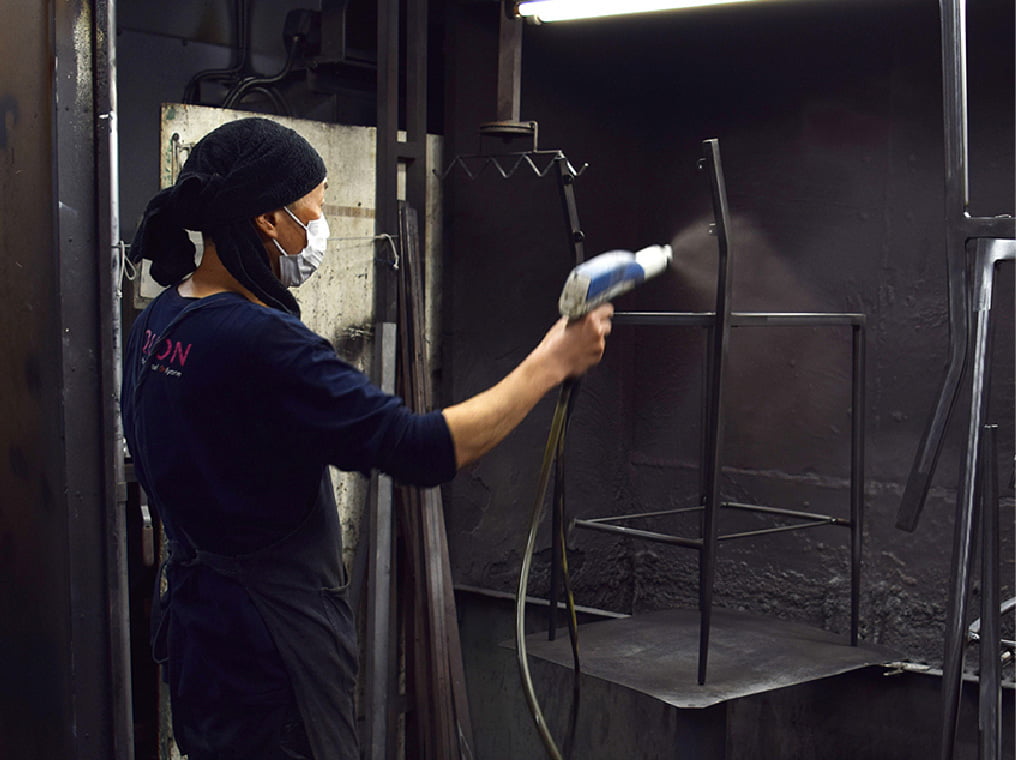 Manufacturing
The greatest strength of QUON is that metal products and components can be processed in its own iron works. Moreover, the system that enables the company to do everything from cutting, sewing, and underlaying of fabrics through upholstering a chair within the company makes it possible to broaden our response to orders. In close collaboration with the planning and development departments, and leveraging both software and hardware technologies, we create original products that no competitors can match.
Product Management
At QUON, we conduct strength and durability tests using proprietary equipment in accordance with our own rules, which are more stringent than the Japanese Industrial Standards (JIS). Since higher durability is required for contract furniture than for home furniture, we work to deliver product value that meets these higher standards. We seek to deliver only the kinds of products that users can feel confident about using over the long term, precisely because such products are used by many and unspecified people. These processes represent our commitment.

SOMETHING MORE
We create what is not available.
More flexibly and creatively: QUON has an expansive design range that caters to the many different needs of the marketplace. However, these ready-made products constitute only part of our brand family. The true value of QUON, which pursues creation of "the ideal chair," customization that meets every request, and one-off products made to order for customers anywhere in the world, lies in its commitment to "Creating what is not available" through products tailored to particular needs. The company's flexible response to orders is something that QUON has been good at for many years. Seeking to meet the needs of customers who require originality in spaces, we change only the legs of chairs or remake a chair into a love sofa. We flexibly meet requests for novel rearrangement of a ready-made product and for customized specifications. Being able to create even one special furniture item is a strength that is made possible by the environment that enables us to produce everything from components. At QUON, we also have a unique Color Order System in place for our wooden and metal products. This is an innovative system that facilitates selection of a unique frame color from among an array of frame coating colors. Combining them with fabric designs can broaden our customers' design and color plans. There may be more than one answer to "the ideal chair." Therefore, QUON is constantly looking for the image of the ideal chair, hidden in the minds of customers.